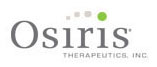 Osiris Therapeutics (OSIR) researches, develops, manufactures, markets, and distributes regenerative medicine products.
OSIR products include Grafix, a cryopreserved placental membrane for treating hard-to-treat acute and chronic wounds, venous leg ulcers, and burns; BIO4, a bone allograft for use in all surgical applications, including spine, trauma, extremity, cranial, and foot and ankle surgery; and Cartiform, a viable chondral allograft that promotes articular cartilage repair to treat focal chondral defects.
Osiris Therapeutics, Inc. was founded in 1992 and is headquartered in Columbia, Maryland.